---
CTN_2022_NYRA_WIP
Print
link
"One day at Home Depot"
New York Review of Architecture, forthcoming

A comic strip that narrates a ghostly, anthroposcenic trip to Home Depot.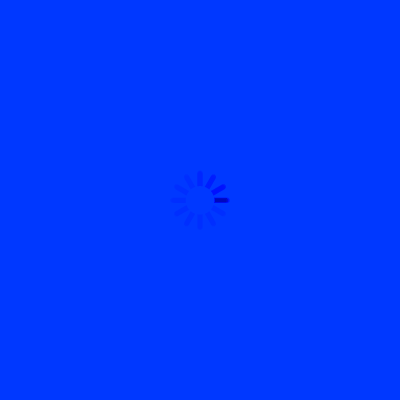 ---
CTN_20210304_LOOSE
Online
link
"Loose Fit"
Politico Nightly,
March 4, 2021
Speculative sketch and caption text for Myah Ward, "Where you'll work next year".

Post-pandemic, the workplace would be something like a 'loose fit': permeable to natural environments and shared uses over time. Instead of the airtight curtain-wall towers that populate so many downtowns, the new workplace will be porous, shaded and potentially more locally embedded across neighborhoods. The unsustainably large air-conditioned office interior is now reduced to a smaller footprint, and its exterior shell enlarges to create more outdoor shaded spaces for working. After hours, this outdoor room is public grounds.

Eschewing the locked glass lobby or office-block enclave, the loose-fit workplace opens up its porous envelope to common use on evenings, weekends and during periods of reduced work. Rather than a single front door, multiple entry points allow the building to cater to different constituencies day and night. In another pandemic, the building's ground floor might be used in the same way schoolyards have been used to distribute food or supplies to local residents. As the space of work swings between home and office, this proposal turns the prospect of redundancy into possibilities for neighborhood resilience.

---
CTN_202110_PRAM
Print & online
link
"Gentrivagn, 2020 (Yuppiebarn ingår ej)"
Stockholmstidningen,
no. 3: Barnen [children], October 2020
"Gentri-Stroller, 2020 (hipster child not included)."

Cartoon commission for an article on stroller history by Michelle Millar Fisher and Amber Winick, "Ålskade barnvagn — en formsaga i sju delar." Stockholmstidningen is a newspaper on urban transformation in Sweden.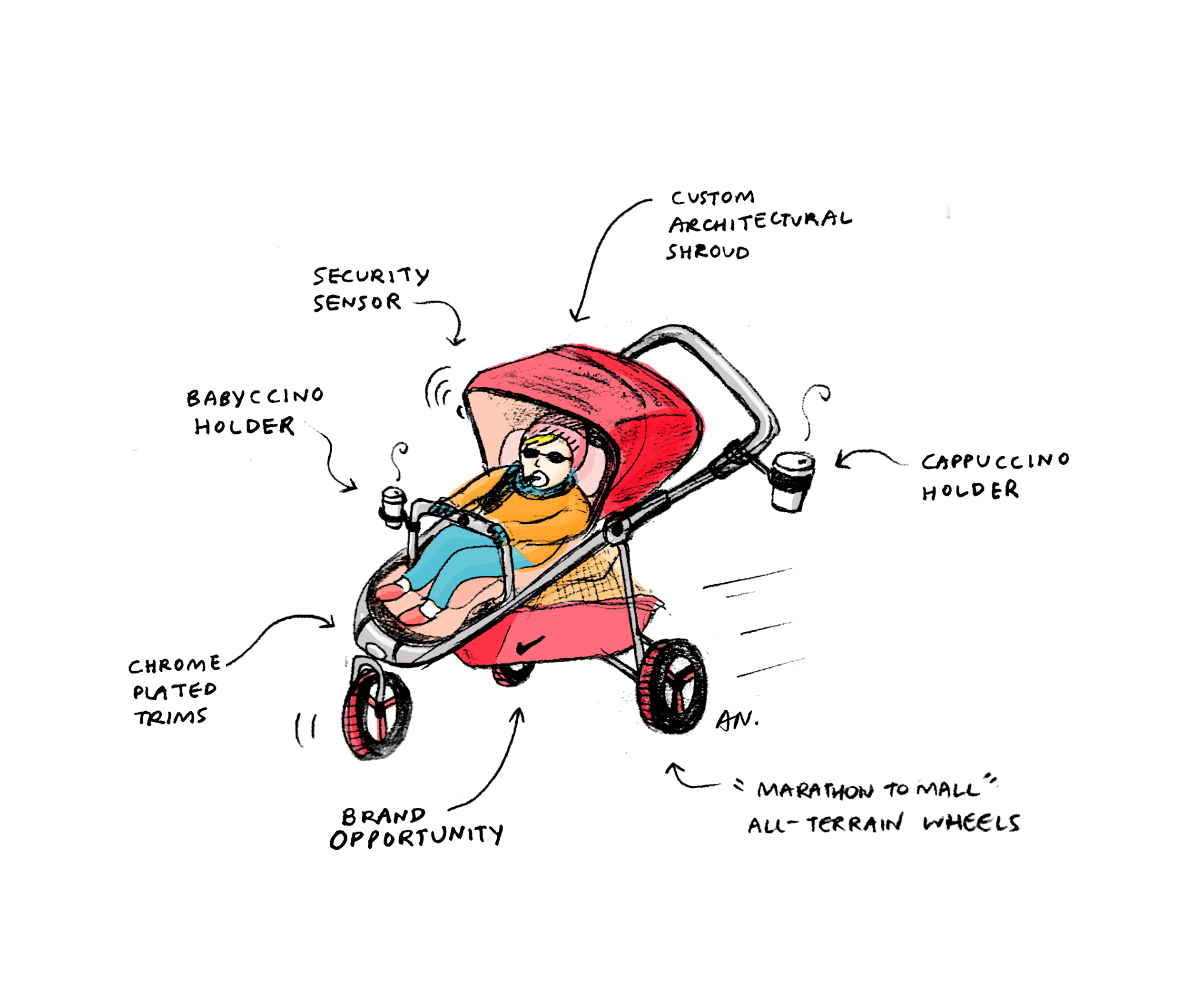 ---
CTN_2019_UNBOUND
Competition proposal
Unbound NYC
City of Dreams Pavilion Competition, Roosevelt Island, New York City, 2019
Fences tend to be the de facto solution for delineating public open space in the city. How might this hard edge condition be reframed—not as enclosure, but as communal shelter and public gathering? Unbound NYC seeks to reverse this trend by releasing the landscape from its enclosing elements, and setting new conditions for inclusive urban activity.
Team: Christine Giorgio, Amelyn Ng, Gabriel Vergara
Supported by the
Center For Court Innovation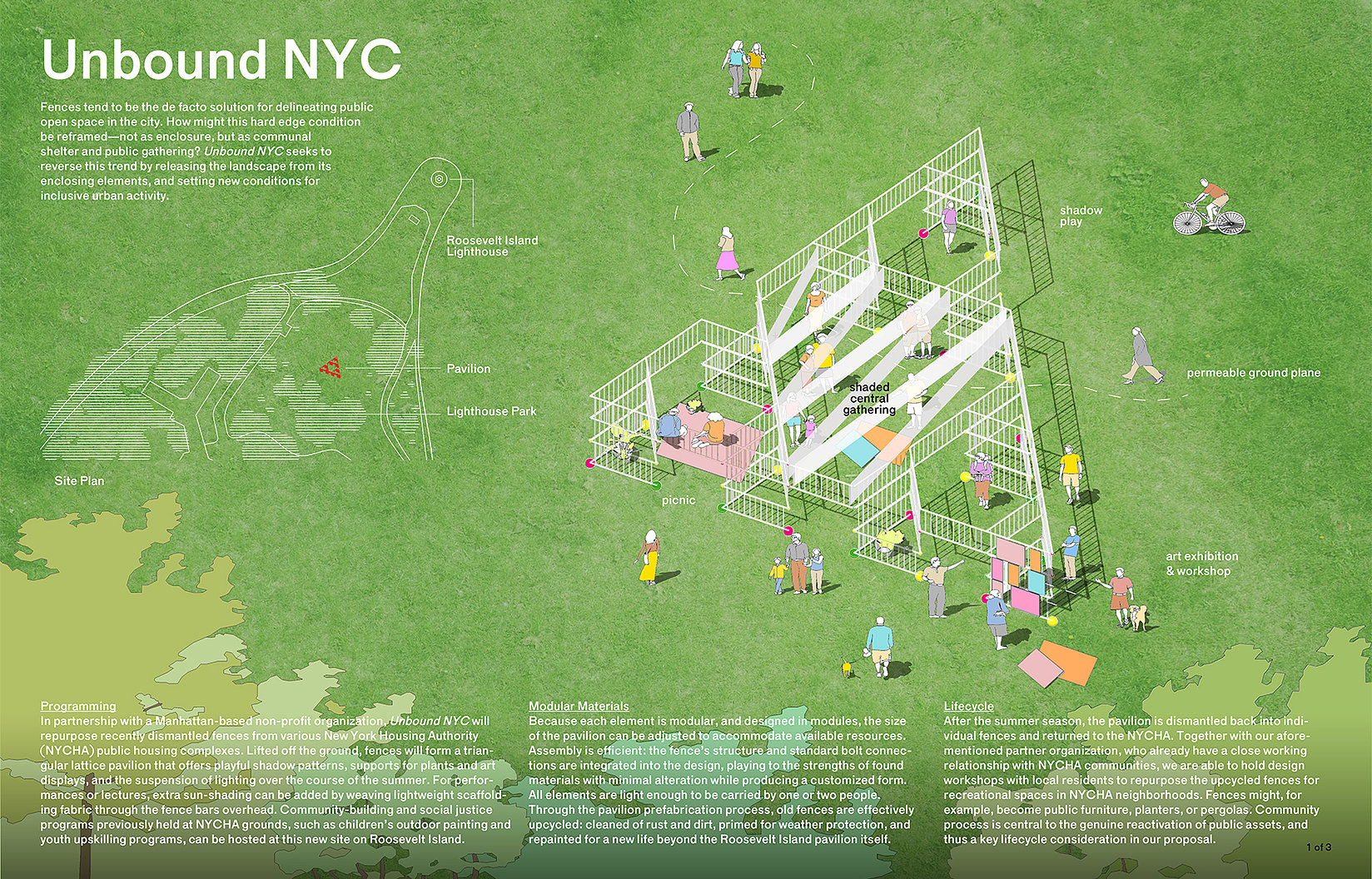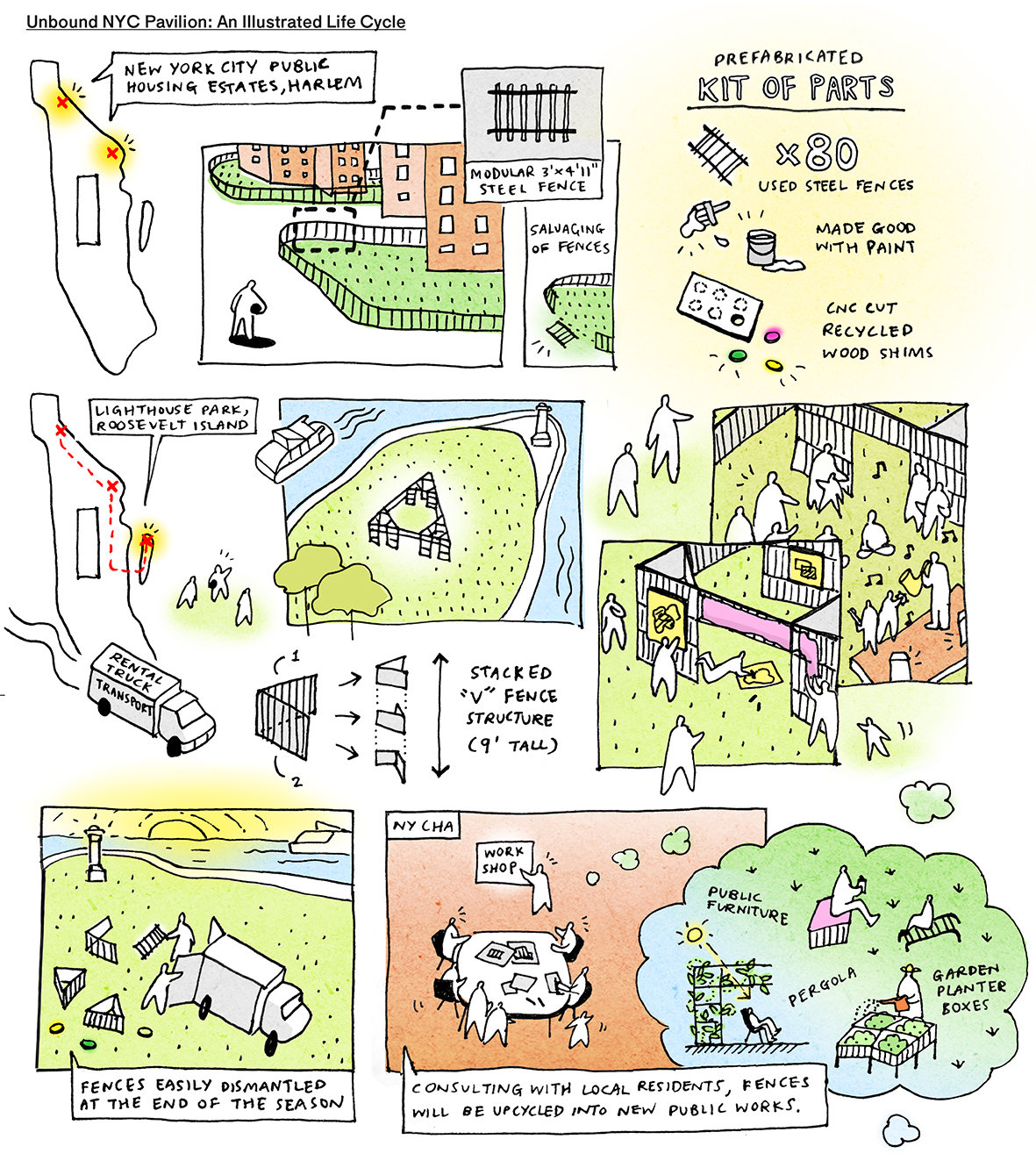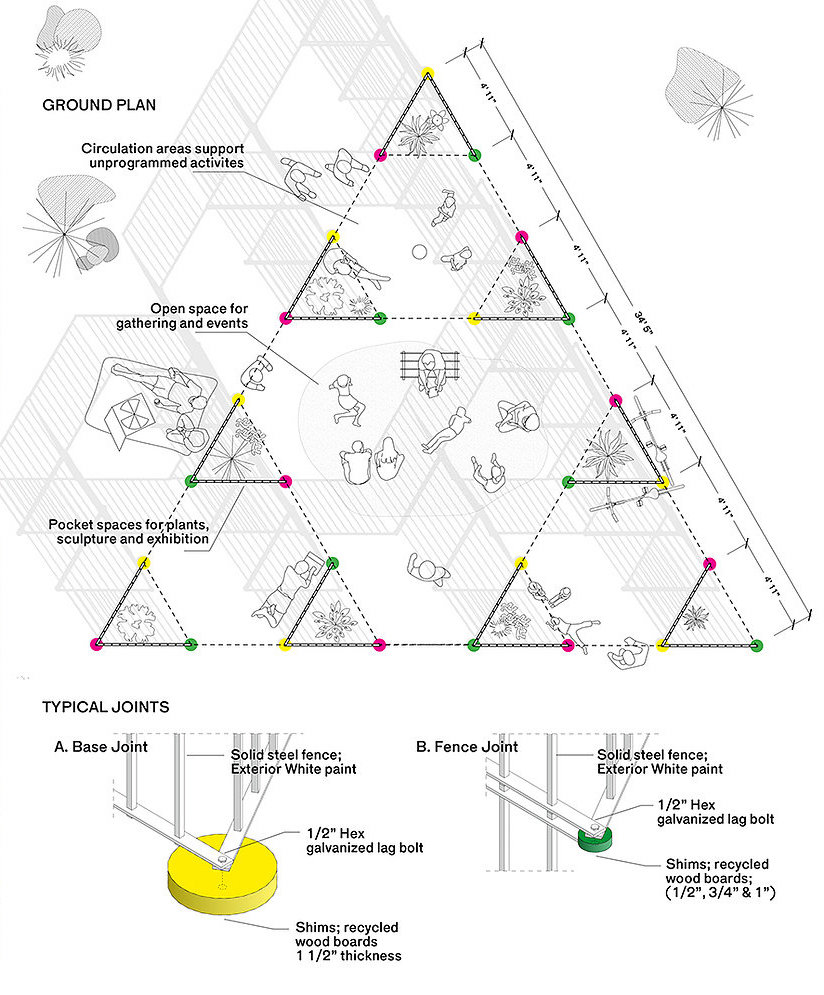 ---
SELFPUB_2018_INFRA
Print, self-published

Infrastructural Ironies
Columbia GSAPP, 2018
A critical investigation of infrastructures is, in many ways, also a charting of ironies. This pocketbook you hold in your hand is an illustrated companion guide to
Infrastructural Imaginaries
, a Fall 2018 seminar held by
Tei Carpenter
at Columbia GSAPP. The inaugural seminar has provided an array of discerning theoretical tools and case study insights into the political and ecological ironies of infrastructure that riddle mainstream discourses of design, climate and politics. As we become better-equipped to contend with these Capitalocentric absurdities that undergird the infrastructural commodity fetishes surrounding us, how might we subsequently communicate these contradictions to others? How to give this new way of "seeing" a productive afterlife beyond the walls of the classroom, and how to relay some of these concepts amongst extra-academic audiences?
Infrastructural Ironies: Notes on the Contradictions of Design-Nature-Politics
expands the syllabus by constructing broader narratives about the paradoxes, discrepancies, and aporia that come with the conceptions and construction of infrastructure.
Why the cartoon?
The cartoon genre, while deceptively simple and seemingly banalizing, has been known to deal effectively with complex sociopolitical ironies of all kinds. For this, the use of a non-technical, metrically inexact, and putatively "non-architectural" genre such as the cartoon is a useful graphic strategy. The communicative power of a cartoon lies precisely in its ability to rupture disciplinary boundaries with humor, and in its potential to deconstruct given myths, apparent stabilities, self-assured statuses, and self-evidentiary claims surrounding its object of study.